Free personalized radio that
plays the music you love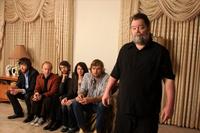 People who also like this
Like
Syd Barrett
, a common point of reference, Roky Erickson rose to cult-hero status as much for his music as for his tragic personal life; in light of his legendary bouts with madness and mythic drug abuse, the influence exerted by his garage-bred psychedelia was often lost in the shuffle. Born Roger Kynard Erickson on July 15, 1947, in Dallas, TX, he began playing the piano at age five; by age 12, he had also taken up the guitar. The child of an architect and would-be opera singer, Erickson dropped out of high school to become a professional musician. In 1965, he penned his most famous composition, "You're Gonna Miss Me," which he first recorded with a group called the Spades. The song and his high, swooping tenor brought him to the attention of another area band, the psychedelia-influenced
13th Floor Elevators
, whose lyricist and jug player Tommy Hall invited Erickson to join;
the Elevators
soon cut their own version of "You're Gonna Miss Me," and took the single to number 56 on the pop charts in 1966.
The record's success earned
the 13th Floor Elevators
a deal with International Artists, but as their fame grew, so did their notoriety with local law enforcement officials, who took exception to the group's heavy experimentation with (and public support of) marijuana and LSD.
The Elevators
became the subject of considerable police harassment, and after Erickson was arrested for the possession of one lone joint in 1969, he pleaded insanity to avoid a prison term. A three-and-a-half year stint in the state's Hospital for the Criminally Insane followed; Erickson was diagnosed as a schizophrenic, and subjected to extensive electroshock therapy, Thorazine, and other psychoactive treatments.
Though released from the hospital in 1973, Erickson was never the same person; he returned to performing with a new band, the Aliens, but his songs -- a series of horror film-influenced records including "Red Temple Prayer (Two-Headed Dog)," "Don't Shake Me Lucifer," and "I Walked with a Zombie" -- found little success. He did retain a devoted cult following, however, but his popularity was fully exploited by managers who took advantage of his instability to draw the singer into a series of unfair publishing contracts that resulted in a steady stream of unauthorized releases from which Erickson earned not a cent. In 1982, he signed a legal affidavit declaring that a Martian had taken residence in his body, and gradually disappeared from music as the decade wore on.
By the '90s, Erickson was struggling to survive on a $200 monthly Social Security stipend; after an arrest on mail theft charges (later dropped), he was re-institutionalized. In 1990, however, artists like R.E.M.,
ZZ Top
,
John Wesley Harding
, and
the Jesus and Mary Chain
recorded his songs for the album Where the Pyramid Meets the Eye: A Tribute to Roky Erickson, which brought his work to a wider audience than ever before. In 1993, Erickson performed publicly for the first time in many years at the Austin Music Awards; a few months later, he returned to the studio with guitarists
Charlie Sexton
and
the Butthole Surfers
' Paul Leary to record a number of new songs. In 1995, Leary's bandmate King Coffey released Erickson's All That May Do My Rhyme on his Trance Syndicate label; four years later, Trance issued Never Say Goodbye, a collection of rare, private recordings or unreleased Erickson compositions. (Coffey claims Erickson told him he was the first person to ever give him a royalty check for his music.)
In 2001, Sumner Erickson, Roky's brother and a successful classical musician, obtained custody of Roky, who had fallen into poor health. Under Sumner's watch, Roky began receiving proper medical and dental care for the first time in years, as well as more effective treatment for his psychological problems. Sumner also set up a charitable trust to help finance his brother's care, and with the help of sympathetic lawyers, attempted to sort out the legal red tape that prevented Roky from being paid for his music. A fit and relatively lucid Roky Erickson began making occasional public appearances in Austin, TX, and in March 2005, Roky spoke as part of a panel discussion on
the 13th Floor Elevators
at the South by Southwest Music Conference. Roky also made a brief musical appearance with a reunited lineup of the Explosives, and a documentary on Erickson, You're Gonna Miss Me, premiered at the affiliated South by Southwest Film Festival. This burst of activity coincided with the release of I Have Always Been Here Before: The Roky Erickson Anthology, a two-disc career overview compilation. Halloween, a set of live recordings from 1979-1981 with the Explosives, was released in early 2008. The
Will Sheff
-produced True Love Cast Out All Evil, Erickson's first new studio album in some 14 years, appeared from Anti in 2010. ~ Jason Ankeny
full bio
Selected Discography
Similar Artists
Don't have a Pandora account? Sign up
Already have a Pandora account? Log In