Free personalized radio that
plays the music you love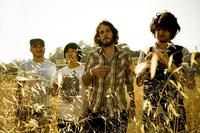 People who also like this
Emerging from Orange County's thriving ska-punk scene, RX Bandits quickly made a name for themselves as a unit willing to take musical risks and lyrical stances, largely thanks to lead singer and guitarist Matt Embree, whose songwriting continued to evolve in a more progressive direction as RX Bandits grew to their eventual complement of six. Formed in 1995 as Pharmaceutical Bandits, the original lineup featured Embree, bassist Franz J. Worth, drummer Chris Tsagakis, Noah Gaffney on sax, and Rich Balling on trombone. This edition of the band cut its debut album, Those Damn Bandits, in 1997. A year later, the band officially changed its name to RX Bandits, and cut its more polished and ambitious second effort, Halfway Between Here & There, for Drive-Thru Records.
Soon the group was sharing stages with the likes of
Goldfinger
,
Reel Big Fish
, and
New Found Glory
. Released in 2001, Progress, another thematic and musical step forward, introduced a new lineup of RX Bandits; Worth, Gaffney, and Balling were out of the band, and added to the membership were keyboardist Steve Choi, bassist Joseph Troy, trombonist Chris Sheets, and saxophonist Steve Borth. The band continued to build its national following, appearing on the Warped Tour and playing its own club gigs. In 2002, Embree started the Mash Down Babylon (MDB) label, which emphasized the band's role in a larger musical community. With July 2003's Resignation (issued through Drive-Thru's distribution agreement with MCA), RX Bandits took their progressive sound to another level entirely, excising much of the ska in favor of moodier reggae and raw, near post-hardcore screeds. It was also a platform for Embree's views on society and politics. That September, RX Bandits headed out with
Something Corporate
for a two-month club tour.
Summer 2006 found the band on nationwide headlining dates, leading up to the fall release of its next album, ...And the Battle Begun, on MDB. Borth also exited the group. In 2009, the band released the album Mandala, followed by extensive touring that included multi-night runs in New York and Los Angeles. In 2011, RX Bandits announced they were going on hiatus, and that they intended to give up touring following a run of dates in the summer of that year. However, in 2012 the group members had a change of heart, setting up a tour of Brazil, and in 2013 RX Bandits released an EP of covers, The Resignation, followed by a North American tour. RX Bandits reconvened as a four-piece (Chris Sheets left, stripping the band of its horns) in 2014 to record and release a new album, Gemini, Her Majesty, through Pledge Music. ~ Johnny Loftus
full bio
Selected Discography
Similar Artists
Don't have a Pandora account? Sign up
Already have a Pandora account? Log In