Free personalized radio that
plays the music you love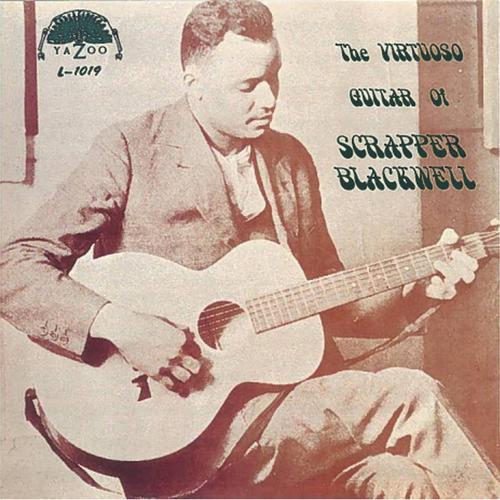 People who also like this
Scrapper Blackwell was best known for his work with pianist
Leroy Carr
during the early and mid-'30s, but he also recorded many solo sides between 1928 and 1935. A distinctive stylist whose work was closer to jazz than blues, Blackwell was an exceptional player with a technique built around single-note picking that anticipated the electric blues of the '40s and '50s. He abandoned music for more than 20 years after
Carr
's death in 1935, but re-emerged at the end of the '50s and began his career anew before his life was taken in an apparent robbery attempt.
Francis Hillman "Scrapper" Blackwell was of part-Cherokee Indian descent, one of 16 children born to Payton and Elizabeth Blackwell in Syracuse, North Carolina. His father played the fiddle, and Blackwell himself was a self-taught guitarist, having started out by building his own instrument out of cigar boxes, wood, and wire. He also took up the piano, an instrument that he played professionally on occasion. By the time he was a teenager, Blackwell was working as a part-time musician, and traveled as far away as Chicago. By most accounts, as an adult, Blackwell had a withdrawn personality, and could be difficult to work with, although he had an exceptionally good working relationship with Nashville-born pianist
Leroy Carr
, whom he met in Indianapolis in the mid-'20s. They made a natural team, for
Carr
's piano playing emphasized the bass, and liberated Blackwell, allowing him to explore the treble strings of his instrument to the fullest.
Carr
and Blackwell performed together throughout the midwest and parts of the South, including Louisville, St. Louis, Cincinnati, and Nashville, and were notably successful. With Blackwell's help,
Carr
became one of the top blues stars of the early '30s, and the two recorded well over 100 sides together between 1928 and 1935. They might've had major success going into the war years and beyond. It was not to be, however, as
Carr
's heavy drinking and nephritis caused his death in Indianapolis on April 29, 1935.
Blackwell also recorded without
Carr
, both as a solo and also occasionally with other partners, including
Georgia Tom Dorsey
and an obscure singer named Black Bottom McPhail, and had occasionally worked with blues bands such as Robinson's Knights of Rest. His biggest success and greatest effectiveness, however, lay in his work with
Carr
, and after the latter's death, he continued working long enough to cut a tribute to his late partner. His withdrawn personality didn't lend itself to an extended solo career, and he gave up the music business before the end of the '30s.
Blackwell's career might've ended there, preserved only in memory and a hundred or so sides recorded mostly with
Carr
. At the end of the '50s, however, with the folk-blues revival gradually coming into full swing, he was rediscovered living in Indianapolis, and prevailed upon to resume playing and recording. This he did, for the Prestige/Bluesville label, at least one album's worth of material that showed his singing and playing unmarred by age or other abuse. Blackwell appeared ready to resume his career without missing a beat, and almost certainly would've been a prime candidate for stardom before the burgeoning young white audience of college students and folk enthusiasts who embraced the likes of
Furry Lewis
, the
Rev. Gary Davis
, and
Mississippi Fred McDowell
. In 1962, however, soon after finishing his work on his first Prestige/Bluesville long player (which, for reasons best understood by the label's current parent company, Fantasy Records, has never been re-released on CD), Blackwell was shot to death in a back alley in Indianapolis, the victim of a mugging. The crime was never solved.
Scrapper Blackwell was one of the most important guitar players of the '20s and early '30s, with a clean, dazzlingly articulate style that anticipated the kind of prominent solo work that would emerge in Chicago as electric blues in the '40s and '50s, in the persons of
Robert Nighthawk
and the young
Muddy Waters
. His "string-snapping" solos transcend musical genres and defy the limitations of his period. Although Blackwell's recordings were done entirely on acoustic guitar, the playing on virtually every extant track is -- and this is no joke -- electrifying in its clarity and intensity. Along with
Tampa Red
(who also had some respect in jazz circles, and who was a more derivative figure, especially as a singer), Blackwell was one of a handful of pre-war blues guitarists whose work should be known by every kid who thinks it all started with
Chuck Berry
or even
Muddy Waters
. In addition to the albums credited to Scrapper Blackwell, his recordings can also be found on collections of
Leroy Carr
's work (virtually all of which feature Blackwell) including such releases as Magpie Records' The Piano Blues: Leroy Carr 1930-35; and one
Carr
/Blackwell duet, "Papa's on the Housetop," which is not on The Virtuoso Guitar of Scrapper Blackwell, but shows up on Yazoo's Uptown Blues: Guitar Piano Duets anthology. ~ Bruce Eder
full bio
Selected Discography
Similar Artists
Don't have a Pandora account? Sign up
Already have a Pandora account? Log In