Free personalized radio that
plays the music you love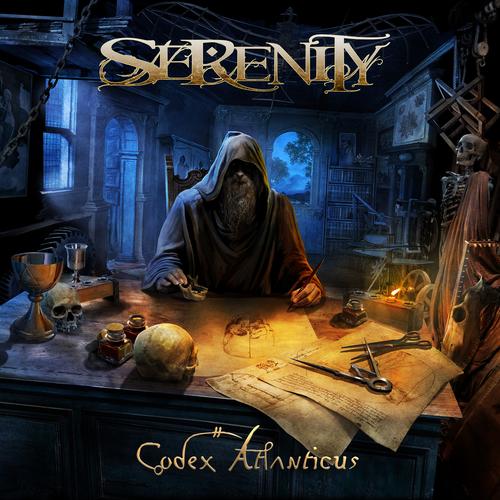 People who also like this
Serenity are an Austrian symphonic power metal band famous for big theatrical concept recordings based on historical figures and/or events. While they were originally formed in 2001, only one original member remains. The band's moniker comes from the science fiction film of the same name -- which was titled for the spaceship in the futurist sci-fi Western television series Firefly.
In 2001, influenced by the wealth of symphonic power metal that had been pouring out of the Netherlands since the mid-'90s, friends and musicians guitarist/vocalist Matthias Anker, lead guitarist Stefan Schipflinger, bassist Stefan Wanker, drummer Andreas Schipflinger, and keyboardist Mario Hirzinger formed Serenity. Almost all of the band's players possessed classical training and were extremely adept at their instruments. Early rehearsals resulted in auditions and paying shows. The next step was the self-recorded demo EP Starseed V.R. in 2002. Recorded for the purpose of attracting label attention, it proved a fave in international zines and in growing the group's reputation, but ultimately failed in its objective.
At the end of the following year, Anker decided to leave the band. Tasked with finding a new lead vocalist, Serenity reached out to a trio of musicians -- vocalist/songwriter Georg Neuhauser, guitarist Thomas Buchberger, and bassist Simon Holzknecht -- who had also cut their own demo and had been trying to find more players for their own band. Wanker was so impressed with the demo he felt compelled to fold them all into Serenity -- even though it meant he had to leave the band. Stefan Schipflinger followed him, leaving Andreas Schipflinger and Hirzinger with the new trio. Serenity regard this lineup as the true beginning of their professional career.
After a tremendously successful performance opening for
Ronnie James Dio
in 2004, Serenity recorded the demo EP Engraved Within in Germany. It was mixed by Jan Vacik (who would later become their producer). Released in 2005 with the same goal -- attracting a record deal -- it won rave reviews in the metal press across Europe and resulted in offers from a number of independent labels. Serenity declined them all. Instead, they toured Western Europe and stockpiled their earnings.
In 2006, they rolled the dice and self-recorded their debut long-player, Words Untold & Dreams Unlived, in Munich and Austria. Orchestral parts were cut in the Czech Republic and produced by Hans Valter. Their self-confidence (not to mention the high quality of the music and sleeve) attracted the attention of Austria's Napalm Records. A deal was reached and the album was issued internationally the following spring. Greeted by almost universal acclaim, the band toured ten European countries in support.
Immediately after the tour, Serenity began working on a new album. Throughout 2007 and into the spring of 2008, the band recorded Fallen Sanctuary in Munich with Vacik and a host of other producers and engineers, and even larger orchestras and choirs. It was rush-released in July, prefaced by the single and video "Velatum." Fallen Sanctuary was greeted by the metal press enthusiastically, and Serenity toured for nearly two years behind it. By 2010, Holzknecht had had enough. He left the band and was replaced by bassist Fabio D'Amore (ex-
Pathosray
and
Fairyland
).
Again, Serenity took almost no time off. That same year they entered the studio to begin recording a follow-up to Fallen Sanctuary. With Oliver Phillips producing (he had done orchestral arrangements and production on the previous album) and Vacik mixing (he had become a kind of creative and spiritual mentor to the band), Serenity's expansive vision grew grander still. They added the voice of American singer/songwriter Amanda Somerville to their mix. Death & Legacy was released in February of 2011. Reviews were again extremely positive and fan attendance at concerts increased to sellout proportions. They also began using female vocalists on the road. Cinematic videos were shot for two of the album's three singles, "The Chevalier" (based on the life of Casanova) and "When the Canvas Starts to Burn" (inspired by and dedicated to Renaissance painter Albrecht Dürer). On tour, the band hired French vocalist Clementine Delauney (she had appeared on several of their previous albums in a guest role). The on-stage rapport between Delauney and Neuhauser was dynamic on the band's cross-continental tour, which took them to the U.S. and the Prog Power Festival in Atlanta. In October of 2012, Hirzinger left Serenity as a member but still guested on-stage with them from time to time.
During breaks from the tour, Serenity had been recording a new album. Each song dealt with the life of a different historical character. Perhaps because it was recorded piecemeal, or because of its various subjects, War of Ages was an altogether darker and more intense affair than its predecessors. Delauney sang not only the female solo vocal parts but many of the choir segments as well. Just prior to its spring 2013 release, the band's website revealed the not so well kept secret that she had become a full-time member. The album was greeted with critical acclaim in Europe, America, and Asia. It netted a lone video single, "Wings of Madness," that featured Delauney as the Countess Bathory and Neuhauser as her husband. The band launched its support tour for War of Ages almost immediately after the album's release. They remained on the road with only short breaks well into 2014.
Serenity announced Buchberger's departure from the band in early 2015, but he had decided to leave the previous year -- he stayed on simply to finish touring obligations. He left open the possibility of playing on future recordings. Likewise, after only two years, Serenity and Delauney parted company. Undaunted, the band returned to the studio in 2015 with new guitarist Chris Hermsdörfer (aka Cris Tian) as a quartet. With producer Vacik and mixing engineer Thommy Tschuggnall, and orchestral arrangements by Luki Knoebl, Serenity framed their attack around Neuhauser's (and to a lesser extent D'Amore's) vocals -- though there were select female appearances by Somerville and Natascha Koch (Tasha.At). The conceptual centerpiece was the life of Leonardo da Vinci and the album title, Codex Atlanticus, was derived from da Vinci's 12-volume opus of writings and drawings. The single "Iniquity" was previewed on the Internet in advance of the album's release in January of 2016. ~ Thom Jurek
full bio
Selected Discography
Similar Artists
Don't have a Pandora account? Sign up
Already have a Pandora account? Log In