Free personalized radio that
plays the music you love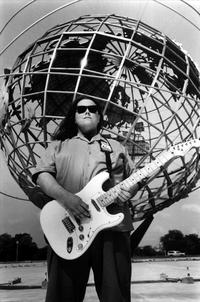 People who also like this
Shawn Lane was a phenomenally talented guitar player who never quite broke out beyond guitar enthusiasts and critics, but will remain influential to players for many years to come. Originally hailed as a child prodigy, Lane joined
Black Oak Arkansas
as a teenager, and could have been part of the guitar shredder movement of the late '80s and '90s, but his restless musical inclinations led him down a different path.
Lane began his musical education on piano and cello at age four, but had switched to guitar by age eight. At ten, he was holding band rehearsals at the house he shared with his grandmother, and since the other bandmembers left their instruments at his house, Lane was free to try them out, and added bass and drums to his keyboard and guitar abilities. By 15, Lane was becoming known in Memphis circles as a guitarist, which led to an audition with
Black Oak Arkansas
in 1978, who he toured with for the next four years.
Black Oak Arkansas
was still popular enough to play at Bill Clinton's inaugural as Governor of Arkansas, but the band's heyday was well behind them. After disbanding briefly,
BOA
was re-formed with a couple of Shawn's high school friends joining the band, and bringing a heavy fusion edge to this southern boogie band. Then, burnt out from touring, Lane basically dropped out of sight in 1982 for a couple years, practiced piano, studied music theory and composition, and did a lot of reading and watching movies (he claims he barely played guitar at all during this period).
The mid-'80s saw Shawn returning to guitar: first playing in some bands around the south, then appearing on an album produced by Mike Varney on the Shrapnel label, with a tune called "Stratosphere II" on the U.S. Metal compilation (his first available recording). Shortly afterwards, he formed a band called the Willys, who were the house band at the Peabody Hotel in Memphis. Many touring musicians caught Lane's playing while staying there, and word of mouth led to session work, and eventually to his playing on the Highwayman 2 album with Johnny Cash and
Willie Nelson
. That high profile work ,and a demo cassette passed to Jim Ed Norman at Warner Brothers led to Lane being signed to Warner Brothers in 1990.
Lane spent the next two years at home, creating the Powers of Ten album, on which he played every instrument. Following its release in 1992, Guitar Player Magazine named him "Best New Talent" and he placed second in Keyboard Magazine's "Best Keyboard Player" category. A touring band was assembled to promote the album, and a live recording was made, though it wasn't released until 2001(Powers of Ten Live!). His next project was DDT, a band that also featured
Cody
and
Luther Dickenson
, later of the
North Mississippi Allstars
. The DDT material was supposed to be for Lane's second album for Warner Bros., but the recording never materialized. Also at this time, Lane did production work for other artists, did a couple instructional videos, and developed curricula and taught at several European Conservatories.
1994 would be an important year for Lane, as it marked his first collaboration with Swedish bassist
Jonas Hellborg
, a relationship that would continue for nearly a decade and produce many releases (mostly on the Bardo label). Lane and
Hellborg
were perfect collaborators, sharing many of the same musical influences and many other interests as well, and it was playing with
Hellborg
that Lane really discovered his voice on guitar. They toured with drummer Jeff Sipe over the next several years, developing such a rapport that they were able to play completely improvised sets every night (documented on albums like Temporal Analogues of Paradise and Time Is the Enemy). Concurrently, in 1995,
Hellborg
and Lane played with Chinese pop singer Wei-Wei, and the
Hellborg
/Lane/Sipe trio appeared as an opening act at all of Mainland China's largest musical venues.
Lane and
Hellborg
parted ways with Sipe in 1997, allowing Lane to work on the tracks that would become Tri-Tone Fascination, his second solo album in 1999. Also at this time, he and
Hellborg
began incorporating more Near Eastern and Eastern influences into their playing and improvising (Zenhouse, ). In 1999, Lane and
Hellborg
began working with
V. Selvaganesh
, son of percussionist Vikku Vinayakram of
Shakti
fame, and began pushing the music into more of a South Indian fusion, as evidenced by Good People in Times of Evil.
Lane started having health problems in 2001, temporarily breaking off his work with
Hellborg
. After recovering, Lane started playing with a Memphis bar band called the Time Bandits, but was back with
Hellborg
and Sipe for a brief tour in 2002. There was also more work with the Vinayakrams, resulting in Icon, a dazzling work of East-West fusion that, unfortunately proved to be among Lane's final recorded works. There was a brief tour of India in February of 2003, but Lane's health problems returned, and on Sept. 26, 2003, Shawn Lane passed away following lung surgery. ~ Sean Westergaard
full bio
Similar Artists
Don't have a Pandora account? Sign up
Already have a Pandora account? Log In