Free personalized radio that
plays the music you love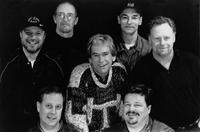 People who also like this
The Sons of Champlin did not rank in the first tier of the San Francisco psychedelic rock bands of the '60s with
the Grateful Dead
and
Jefferson Airplane
, but they did qualify for the second tier along with
Moby Grape
and
Quicksilver Messenger Service
, playing a more soul- and R&B-influenced style of music than their peers. Despite a somewhat lackadaisical attitude toward the demands of a professional career, they managed to chart a handful of albums in the late '60s and '70s.
The group was formed out of the remnants of the Opposite Six, an earlier band led by singer/keyboardist
Bill Champlin
, playing its first show at the College of Marin in Marin County, CA, in the spring of 1965, with a lineup also including saxophonist Tim Caine, guitarist Terry Haggerty, bassist Al Strong, and drummer Jim Myers, later replaced by Bill Bowen. (Although still a teenager,
Champlin
was married and a father, which inspired the band name.) By July 1966, they were playing at the Fillmore Auditorium in San Francisco. They released their debut single, "Sing Me a Rainbow," on Verve Records in March 1967, but when it failed to chart, a full-length LP was shelved. (It later earned release under the title Fat City.) Undaunted, the group added two horn players, Geoff Palmer and Jim Beem (who left in 1969), and turned to a more R&B/jazz-oriented style. It took more than a year before they got another chance to record, signing to Capitol Records in 1968 and releasing their label debut, the double-LP Loosen Up Naturally, in April 1969. It peaked at number 137. The band quickly recorded a second album, for which they temporarily shortened their name to the Sons; the LP, released in October, bore that name. It reached number 171. Tim Caine left the band after the album's release.
The Sons toured to support their second album and played in the Bay Area in the winter of 1970, but then broke up. Various members played in other bands until the fall, when they were called back into the studio by Capitol, which demanded another album on their contract. Thus, their third LP (again as the Sons of Champlin), Follow Your Heart, appeared in April 1971. It did not chart, and the band broke up again after a few promotional shows.
Champlin
, Haggerty, and Palmer continued to perform together, however, adding bassist David Schallock and drummer Jim Preston. They were at first reluctant to use the old group name, but eventually relented, reverting to calling themselves the Sons of Champlin in 1972. In 1973, they signed to Columbia Records and cut their fourth album, Welcome to the Dance, released in April. Hailed by many as their best album, it unfortunately got lost in corporate politics as company president Clive Davis was ousted; it peaked at number 186.
The Sons responded to the debacle by forming their own label, Gold Mine Records, for their next LP, titled simply The Sons of Champlin and released in 1975. By that time, they had added a horn section consisting of
Phil Woods
,
Mark Isham
, and Michael Andreas. The independent release attracted sufficient attention that the Sons were able to sign a regular recording contract with Ariola America, which gave the LP a national release. In the run-up to their next album, Schallock left the group along with the horn section. The new bassist was Rob Moitoza (formerly of the Opposite Six), while saxophonist Steve Frediani also joined, followed by trumpeter David Farey by the time A Circle Filled with Love, the sixth album, was released in May 1976. For the disc, the Sons turned to producer Keith Olsen, just off producing
Fleetwood Mac
's big-selling self-titled album, in search of a more commercial sound. The LP reached number 117, the band's highest chart ranking, as the single "Hold On" got halfway up the Hot 100 and "Here Is Where Your Love Belongs" also charted. The Sons released their seventh album, Loving Is Why, in April 1977, and when it turned out to be a commercial disappointment, peaking at number 188,
Bill Champlin
, who had been doing session work in Los Angeles, decided to leave the band and did so at the end of their promotional tour for the LP.
The Sons of Champlin tried to carry on with other singers, but soon disbanded. There were occasional one-off reunions over the years, and the group finally reorganized on an ongoing part-time basis in the late '90s, as
Champlin
was able to fit it in around his solo career and membership in
Chicago
. A concert album fittingly called Live was released in 1998 by Arista Records. By 2002, Haggerty had dropped out and been replaced by Tal Morris, who appeared on a second live album (with accompanying DVD), Secret. DIG Music released a new Sons of Champlin studio album, Hip Li'l Dreams, in 2005. ~ William Ruhlmann
full bio
Selected Discography
Similar Artists
Don't have a Pandora account? Sign up
Already have a Pandora account? Log In