Free personalized radio that
plays the music you love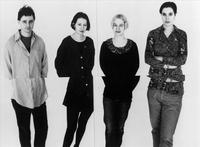 People who also like this
Combining an inclination for melodic '60s pop with an art rock aesthetic borrowed from Krautrock bands like
Faust
and Neu!, Stereolab were one of the most influential alternative bands of the '90s. Led by
Tim Gane
and
Laetitia Sadier
, Stereolab either legitimized forms of music that were on the fringe of rock, or brought attention to strands of pop music -- bossa nova, lounge-pop, movie soundtracks -- that were traditionally banished from the rock lineage. The group's trademark sound -- a droning, hypnotic rhythm track overlaid with melodic, mesmerizing singsong vocals, often sung in French and often promoting revolutionary, Marxist politics -- was deceptively simple, providing the basis for a wide array of stylistic experiments over the course of their prolific career. Throughout it all, Stereolab relied heavily on forgotten methods of recording, whether it was analog synthesizers and electronics or a fondness for hi-fi test records, without ever sinking to the level of kitsch.
Tim Gane
(born July 12, 1964; guitar, keyboards) was the leader of
McCarthy
, a London-based band from the late '80s that functioned as a prototype for Stereolab's sound.
Gane
met
Laetitia Sadier
(born May 6, 1968; vocals, keyboards), a French-born vocalist, at one of
McCarthy
's concerts. The pair began a romantic relationship that became a musical collaboration after
McCarthy
disbanded in 1990;
Sadier
did sing on the final
McCarthy
album. The duo began releasing mail-order singles under the name Stereolab, borrowing their name from a form of record mastering from the late '50s. At that point, the group was working with Th' Faith Healers drummer Joe Dilworth and former
Chills
bassist Martin Kean; Gina Morris occasionally provided backup vocals. All three singles this incarnation of Stereolab released were compiled on Switched On, an album released on Too Pure Records in 1992. Switched On was released at the same time as the band's official debut album, Peng! Both albums featured a variation on a maniacally grinning cartoon, which was their only visual trademark at the time.
Switched On and Peng!, along with the 1992 Lo-Fi EP and a series of limited-edition singles like "John Cage Bubblegum" -- which, coincidentally, was the first Stereolab recording to feature keyboardist/vocalist Mary Hansen and drummer Andy Ramsay, who became two of the group's core members -- Stereolab carved out a cult following, particularly in the U.K. underground. Released in early 1993, The Groop Played "Space Age Batchelor Pad Music" featured the core group of
Gane
,
Sadier
, Hansen, and Ramsay, along with ex-
Microdisney
guitarist Sean O'Hagan and bassist Duncan Brown. One of the first '90s alternative records to explicitly draw from the "Space Age" lounge-pop music of the '50s, The Groop became an underground sensation, paving the way toward Stereolab's first American record contract with Elektra Records. But before the band made their major-label debut, they released the split 10" EP Crumb Duck with
Nurse with Wound
in the summer of 1993 and formed their own U.K. label, Duophonic.
Stereolab's next album, and their first American release, was Transient Random-Noise Bursts With Announcements. Released in the fall of 1993, Transient became an underground and college hit throughout the U.S. and U.K., and Stereolab soon became a hip name to drop for many musicians, including
Sonic Youth
,
Pavement
, and
Blur
, who had
Laetitia Sadier
provide guest vocals on their 1994 hit single "To the End." Where Transient was dominated by a lo-fi experimentalism, the group's sound became lusher and more layered with Mars Audiac Quintet, which was released in the fall of 1994. O'Hagan moved from a full member to a part-time guest during the recording of the album -- he was busy forming his own band,
the High Llamas
-- and the band added keyboardist Katherine Gifford.
By the time of Mars Audiac Quintet's release, the Stereolab sound had become prominent throughout the underground, and the group began to make efforts to change their sound, as the limited-edition 1995 EP Music for the Amorphous Body Study Centre indicated. Created for an interactive art exhibit by Charles Long, the EP boasted detailed, intricate string and vocal arrangements which were more sophisticated than the group's previous releases. That fall, the band rounded up a bunch of singles and B-sides for the second Switched On compilation, Refried Ectoplasm, which was released on Drag City in the U.S. Before the band recorded a new album, Gifford was replaced by Morgane Lhote. Emperor Tomato Ketchup, released in the spring of 1996, was a break from the drone rock of its two predecessors, demonstrating a heavy hip-hop, jazz, and dance influence. The album was the greatest success to date, earning positive reviews in both U.S. and U.K. and becoming a significant college hit in the process. After the recording of Emperor Tomato Ketchup, bassist Duncan Brown was replaced by Richard Harrison. At the end of 1996, Stereolab released the limited-edition, horn-driven Fluorescences EP. Dots and Loops appeared a year later and, like Emperor Tomato Ketchup before it, featured the production and playing of Tortoise's John McEntire. Further bolstering the Stereolab lineup for Dots and Loops was German techno-pop refugee
Jan St. Werner
of
Mouse on Mars
.
After taking time off following the birth of
Gane
and
Sadier
's first child, Stereolab resurfaced in 1999 with Cobra and Phases Group Play Voltage in the Milky Night, and in keeping with their collaborative streak, they employed the production services of McEntire (again) and Jim O'Rourke. An EP, The First of the Microbe Hunters, quickly followed in 2000. Their eighth full-length, Sound-Dust, arrived in mid-2001. Having made several appearances on BBC Radio, a collection spanning ten years, ABC Music: The Radio 1 Sessions, was released in the fall of 2002. In December 2002, mere months after the release of ABC Music, longtime Stereolab member Mary Hansen died at the age of 36 when the bicycle she was riding was hit by a truck. Hansen's backing vocals had complemented
Sadier
's lead since she first joined the group in 1992 and in many ways helped define the singsong style that anchored Stereolab's vanguard and eclectic pop music. The group soldiered on, however, and released its first album without Hansen, Margerine Eclipse, in 2004. Two years later, Fab Four Suture, a collection of previously released limited-edition EPs, was released on Too Pure. The group re-teamed with producer/arranger Sean O'Hagan for 2008's Chemical Chords, a collection of short, poppy songs that was released by 4AD. The album was followed by Not Music, a collection of material recorded during the same sessions. ~ Stephen Thomas Erlewine & Wade Kergan
full bio
Selected Discography
Similar Artists
Don't have a Pandora account? Sign up
Already have a Pandora account? Log In