Free personalized radio that
plays the music you love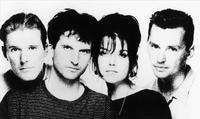 People who also like this
Building on the jangly guitar pop of
the Smiths
and the trance-like dream pop of bands like
the Cocteau Twins
, the Sundays cultivated a dedicated following in indie rock circles, both in their native England and in America, in the early '90s. Although the sales of their first two albums were strong, the band never crossed over into the mainstream, as so many observers and critics predicted they would.
The Sundays formed in the summer of 1987 in London, England. Originally, the group consisted of vocalist Harriet Wheeler, who had previously sung with a band called Jim Jiminee, and guitarist David Gavurin. After the duo had written several songs, they added a rhythm section, featuring bassist Paul Brindley and drummer Patrick Hannan. In August of 1988, the Sundays performed their first concert, playing at the Falcoln "Vertigo Club" in Camden, London. The concert generated good word-of-mouth within the industry, and the group became the target of a record label bidding war. By the end of the year, the band had signed to Rough Trade; they would sign a deal with DGC Records for American distribution within a year.
"Can't Be Sure," the Sundays' first single, appeared in January of 1989 and entered the U.K. charts at number 45. The group took a year to record its first album, Reading, Writing and Arithmetic. The debut was released in early 1990 to very positive critical notices and unexpectedly entered the U.K. charts at number four. Upon its American release later in the year, the album became a modern rock hit, peaking at number 39. Its success in the U.S. was largely due to heavy radio and MTV airplay for the single "Here's Where the Story Ends." The single wound up topping the modern rock charts in America. The Sundays spent the rest of 1990 successfully touring America, Europe, and Japan.
During 1991, Rough Trade collapsed due to financial mismanagement. After the label went out of business, the Sundays signed a deal with Parlophone Records in the U.K.; Reading, Writing and Arithmetic went out of print in England and would not go back in print until 1996. Even considering the setback of Rough Trade's implosion, the Sundays took a long time to write and record their second album. They finally delivered the follow-up to Reading, Writing and Arithmetic in the fall of 1992. The resulting album, entitled Blind, was greeted with mixed reviews but was an immediate hit in the U.S. and U.K. In America, "Love" became a number two modern rock hit and "Goodbye" peaked at number 11. Although Blind was initially successful, it didn't have they staying power of the debut and dropped out of the charts by the summer of 1993. The Sundays supported the album with an international tour.
After the release of Blind, the Sundays were quiet for the next several years. The only sign of the band was the use of their cover of
the Rolling Stones
' "Wild Horses" in an American television commercial in 1994. It would be five years until The Sundays would release another album. Wheeler and Gavurin got married, had a baby girl named Billie, and yearned for a normal life during this time. This obviously explained their absence from the music world, but it was well worth the wait. The Sundays again achieved mainstream success with their third album, Static & Silence (1997), thanks to the popular hit single "Summertime." ~ Stephen Thomas Erlewine
full bio
Selected Discography
Similar Artists
Don't have a Pandora account? Sign up
Already have a Pandora account? Log In