Free personalized radio that
plays the music you love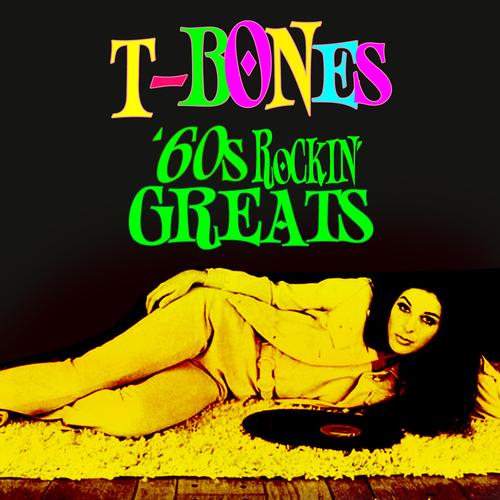 People who also like this
The story of the T-Bones -- the American group, not the U.K. band notable for being managed by Giorgio Gomelsky and as the professional starting point for
Keith Emerson
-- is a tale of unexpected consequences. They were an instrumental group that wasn't a real "group" at all, and weren't supposed to do more than record. That there was ever a performing version of the "group" was a result of one single being too good, and having such potential, that the possibility of live appearances couldn't be passed up. And then that performing group proved more durable than the concept (or the studio "group") that had spawned them in the first place.
One must first concede that the T-Bones originally never existed as an actual formal, organized band -- nor were they ever supposed to exist, except in the minds of listeners, as far as anyone involved was concerned. Rather, they were a name devised by Liberty Records producer Dave Pell and attached to generic surf and hot rod instrumental records put out by Liberty in the early to mid-'60s. The players on those records would have been a list to die for, in terms of getting them into an actual group:
Leon Russell
on piano, Steve Douglas and Plas Johnson on saxes, Tommy Tedesco and
Glen Campbell
on guitars, Ray Pohlman playing bass, and, of course, Hal Blaine on the drums -- and Perry Botkin, Jr. did a lot of their arrangements. Recording as the T-Bones, they did a pair of LPs in 1964, Boss Drag and Boss Drag at the Beach, which sold all right, coming as they did near the tail end of a craze that was already starting to wind down, and then moved into dance records for their third album, Do the Jerk. At that point, having established a brand and a name, and some success for the "group," Pell turned the T-Bones franchise and future output over to Joe Saraceno, a singer turned producer who had been doing great things in the latter capacity by way of
the Ventures
,
the Marketts
, et al., and had even had a hand in the early history of
the Beach Boys
.
It was Saraceno who latched onto the notion -- novel at the time -- of taking a clever and memorable jingle he heard in an Alka-Seltzer commercial and turning it into a commercial release. Why he didn't use
the Ventures
for this project, as he already had them to work with, is anyone's guess, though one assumes there was a financial angle that made using the nonexistent T-Bones -- as opposed to the flesh-and-blood
Ventures
-- a more lucrative proposition for those behind the scenes. Following another call for Los Angeles' top session players -- most of the previous suspects plus, reportedly, bassist Carol Kaye -- and with a Botkin arrangement, a single of the tune "No Matter What Shape (Your Stomach's In)," authored by Sascha Burland, was issued in the fall of 1965 and peaked at number three nationally in February of 1966. It went on to become one of the most successful singles of the year. Part of that success was a result of its initial reception, and the resulting confidence that Saraceno and Liberty had in the record -- on hearing the results and seeing how it went over, they felt compelled to recruit a performing version of the T-Bones to make personal appearances and perform and promote it, starting in late 1965, which only further boosted its sales. The initial performing version of the T-Bones consisted of brothers Judd Hamilton and Dan Hamilton (guitars), Richard Torres (keyboards, saxophone), George Dee (bass), and Richard Pello (drums), though Dee and Torres left early on and were succeeded by Tommy Reynolds (keyboards, sax) and Joe Frank Carollo (bass). Other musicians, including future superstar drummer Jim Keltner, were aboard on occasion as well, but the basic lineup of the live version of the T-Bones consisted of the Hamilton brothers, Carollo, and Reynolds.
While the performing version of the T-Bones did their work, the single kept selling, and an album -- something of a concept album, really, as it was built around commercial jingles transmuted into pop instrumentals -- was duly created under Saraceno and Botkin's direction. More singles followed, including "My Headache's Gone" and "Sippin' and Chippin'" (a Nabisco jingle), which did so well that it yielded a whole additional album in May of 1966. That record, however, diluted the concept of the previous album -- which was probably already wearing thin, even for some people who had purchased the first one -- and failed to chart at all. By the end of 1966, after one more (unsuccessful) single and a run at the LP market with Everyone's Gone to the Moon (And Other Trips), Saraceno and Liberty had moved on to other projects.
Ironically, at that point, it was the performing T-Bones, who were still getting bookings on the strength of their playing and, even more surprisingly, their singing, who were flourishing. Whereas they had contributed anonymously to the two prior albums, on the final T-Bones album they had even managed to get some of their own material into the song lineup, complete with vocals. They also cut a demo around this time that would serve them in good stead a while later. The T-Bones played out their string with another few months' worth of shows (including an extended stay in Japan) before retiring themselves and the name. But a couple of years later, their old demo fell into the hands of Steve Barri, the former partner of
P.F. Sloan
and a highly successful producer in his own right (with all of the post-
Sloan
success of the Grass Roots to his credit). He liked what he heard and got Dan Hamilton, Joe Frank Carollo, and Tommy Reynolds back together, as Hamilton, Joe Frank & Reynolds, who went on to a whole new round of success in the ensuing decade. ~ Bruce Eder
full bio
Selected Discography
Similar Artists
Don't have a Pandora account? Sign up
Already have a Pandora account? Log In