Free personalized radio that
plays the music you love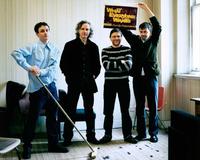 People who also like this
After first gaining acclaim for a dense, melodic sound that anticipated the coming emergence of grunge, Scotland's Teenage Fanclub spent the remainder of their career as torch bearers for the power pop revival, unparalleled among their generation for both their unwavering adherence to and brilliant reinvention of the classic guitar pop of vintage acts like
Big Star
and
Badfinger
. Blessed with the talents of three formidable singers and songwriters (
Norman Blake
, Gerard Love, and Raymond McGinley, all sharing an unerring knack for crafting immediately infectious melodies), Teenage Fanclub's radiant brand of pop classicism enjoyed only a brief moment of commercial and critical vogue, and over time, the band's devotion to its unapologetically old-fashioned sensibility yielded a dwindling fan base and virtually nonexistent record sales. Nevertheless, almost none of their contemporaries can claim either Teenage Fanclub's consistency or longevity -- though never groundbreaking or hip, their music possesses a timelessness and accessibility matched by few.
Singers/guitarists Blake and McGinley first teamed up with singer/bassist Love in 1987 as members of Glasgow's short-lived Boy Hairdressers. The group issued a single, "Golden Shower," on the famed Scottish indie label 53rd and 3rd before disbanding. After a brief stint with
the BMX Bandits
, Blake reunited with Love and McGinley to form Teenage Fanclub in 1989; drummer Francis McDonald, a fellow
BMX Bandit
, completed the original lineup, although McDonald was replaced by fan Brendan O'Hare during sessions for the group's debut album, 1990's A Catholic Education. Released on the Creation label overseas and on the fledgling Matador imprint in the U.S., the album's thick, murky squall staked out sonic territory subsequently occupied by the nascent grunge movement. It also made Teenage Fanclub an instant critical favorite.
The God Knows It's True EP soon followed, but although American major labels came courting, the band still owed Matador one more record. They submitted The King, a ramshackle collection of instrumentals capped off by a tongue-in-cheek rendition of
Madonna
's "Like a Virgin." Instead, the record was summarily rejected by Matador honcho Gerard Cosloy, and after paying Cosloy what they felt the remainder of their contract was worth, Teenage Fanclub signed to Geffen.
Never shy about celebrating their inspirations -- covers of
the Beatles
' "The Ballad of John and Yoko,"
the Flying Burrito Brothers
' "Older Guys," and
Phil Ochs
' "Chords of Fame" are scattered across various singles and EPs -- Teenage Fanclub's 1991 Geffen debut, Bandwagonesque, gloriously evoked the raggedly radiant pop manna of
Big Star
, the famed '70s cult band led by ex-
Box Tops
frontman
Alex Chilton
and his singing/songwriting partner,
Chris Bell
. With its newfound melodic ingenuity, brash guitar sound, and gorgeous harmonies, the record became a massive critical success, and although mainstream pop radio failed to bite, the group found a warm welcome on collegiate airwaves. Although somewhat hard to believe in retrospect, Bandwagonesque topped Spin magazine's Best of 1991 year-end list in the face of staggering competition including
Nirvana
's Nevermind,
My Bloody Valentine
's Loveless, and R.E.M.'s Out of Time. A few months later, they were tapped as Rolling Stone's Hot Band for 1992, and at the peak of their success, the Fanclub even performed on Saturday Night Live, and opened on tour with
Nirvana
the same year.
Although the title of the 1993 follow-up, Thirteen, served immediate notice that Teenage Fanclub's
Big Star
fetish continued unabated, the album's bitter lyrical outlook and heavier guitar sound owed much to
Neil Young
, while the epic closer, "Gene Clark," honored the pioneering
Byrds
co-founder. Critical reception was decidedly icy, however, and in 1994, O'Hare was dismissed from the lineup, briefly resurfacing in
Mogwai
before mounting his own project,
the Telstar Ponies
. Ex-
Soup Dragon
Paul Quinn assumed drumming duties for the 1995 follow-up, the shimmering Grand Prix; by now, however, whatever critical cachet the Fanclub had amassed was long gone, and after the disc sold poorly on both sides of the Atlantic, Geffen dropped the group from its roster. Sony picked up their contract just long enough for a U.S. release of 1997's Songs from Northern Britain, which again made few waves outside of the power pop faithful. Quinn left Teenage Fanclub in the midst of completing 2000's Howdy! More setbacks were to follow as Sony refused to release Howdy in the United States. The album eventually received distribution via Thirsty Ear in 2001, a year after its original release.
A year later, the band brought a relationship they'd developed with spoken word artist
Jad Fair
to fruition by backing him on the album Words of Wisdom and Hope. They also began assembling the retrospective anthology Four Thousand Seven Hundred and Sixty-Six Seconds: A Short Cut to Teenage Fanclub, which appeared in 2006. It took three more years for Teenage Fanclub to return to the studio, which they eventually did by working with post-rock icon John McEntire at his Soma recording studio. After forming their own label, Pema, the Fanclub released Man-Made in 2005 and Shadows in 2010. After a six-year break, Teenage Fanclub returned in 2016 with their tenth studio album, Here. Produced by the band in France and at McGinley's home in Glasgow, Here showcased a more ruminative, folk-inflected sound. Featured on the album was the single "I'm in Love." ~ Jason Ankeny
full bio
Selected Discography
Similar Artists
Don't have a Pandora account? Sign up
Already have a Pandora account? Log In