Free personalized radio that
plays the music you love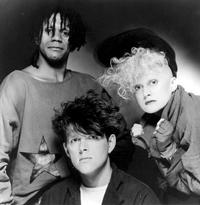 People who also like this
The Thompson Twins -- who were neither a duo nor related, but simply named after the Tin Tin cartoon -- were one of the more popular synth pop groups of the early MTV era, scoring a handful of hits before fading away into lite-funk obscurity. While many of their contemporaries indulged in stylish variations on
Roxy Music
or robotic electronic funk, the Thompson Twins were more pop-oriented, even when they strayed into dance-pop. Despite their success -- "Hold Me Now," "Lay Your Hands on Me," "King for a Day" all reached the U.S. Top Ten -- the group was unable to successfully expand their synth pop sound and, consequently, their audience had virtually disappeared by the late '80s.
Founding member Tom Bailey was attending a teacher's college in Cheshire, England and harboring dreams of becoming a classical pianist when he met Joe Leeway, a fledgling actor, in 1977. The pair hit it off, yet Leeway wasn't part of the original incarnation of the Thompson Twins, which featured Bailey (vocals, keyboards), guitarist Pete Dodd, guitarist John Roog, and drummer Chris Bell. During the late '70s and early '80s, the band released a handful of independent singles and became fixtures on the burgeoning New Romantic scene in London before signing with Arista Records in 1981. That year, they released their debut album, A Product Of..., to little attention.
Not long after the release of A Product Of..., Bailey added his girlfriend Alannah Currie (percussion, saxophone, vocals), Joe Leeway (percussion, vocal), and former
Soft Boys
bassist Matthew Seligman to the group. The Thompson Twins recorded one album in this seven-piece incarnation, 1982's Set, which was released in America as In the Name of Love. The record was a bomb, and following its release, the group was trimmed to a trio -- Bailey, Currie, and Leeway. The revamped Thompson Twins released Quick Step and Side Kick in 1983, and the album became a major hit in the U.K., climbing all the way to number two, as the singles "Love on Your Side" and "We Are Detective" reached the Top Ten. In America, the record was released under the truncated title Side Kicks and earned a cult following.
The Thompson Twins had their American commercial breakthrough in 1984 with Into the Gap. "Hold Me Now," the first single from the album, became a bigger hit in the U.S. than it did in the U.K., peaking at number three; it reached number four in England. Into the Gap also featured the hits "Doctor Doctor" and "You Take Me Up," and the Thompson Twins quickly followed the record in 1985 with Here's to Future Days. "Lay Your Hands on Me" became an American Top Ten hit, as did "King for a Day," but none of the singles from the record became major hits in the U.K., signaling that the group's popularity was beginning to decline. Leeway left the group in 1986, and the Thompson Twins remained a duo, releasing Close to the Bone the following year. Bailey and Currie made their romance public in 1988, when the couple had a child. That same year, they released the remix album The Best of Thompson Twins: Greatest Mixes, which was generally ignored.
By the late '80s, the Thompson Twins' audience had decreased substantially. Big Trash, their 1989 debut for Warner, produced the minor U.S. hit "Sugar Daddy," but it was overlooked in England. In 1991, they released Queer, which was ignored in both the U.S. and the U.K. In 1994, Bailey and Currie decided to form a new band,
Babble
, in order to explore newer electronic musics such as ambient. Working with programmer Keith Fernley,
Babble
released The Stone in 1994 on Reprise to little notice. ~ Stephen Thomas Erlewine
full bio
Selected Discography
Similar Artists
Don't have a Pandora account? Sign up
Already have a Pandora account? Log In