Free personalized radio that
plays the music you love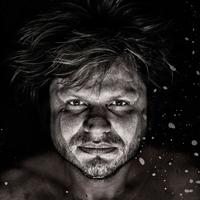 People who also like this
Professionally active since the early '90s, German DJ/producer Timo Maas has worked in numerous styles of electronic dance music, ranging from progressive house, trance, and acid to breaks and electro-house. With his wobbly bass sound and funky, hard-hitting beats, his biggest hits, particularly his seminal remix of "Dooms Night" by
Azzido Da Bass
, have been a significant influence on 21st century EDM. While his discography mostly consists of 12" singles, he's released several mix CDs and a few proper full-lengths, which have featured guest appearances from vocalists such as
Kelis
,
Neneh Cherry
, and
Placebo
's Brian Molko. His list of remix clients includes superstars such as
Paul McCartney
,
Madonna
,
Depeche Mode
, and many others. As a DJ, he's been a longtime resident at Ibiza club DC10, and has also spun at several other prestigious clubs throughout the world, including Twilo, Tresor, and Tunnel.
Maas' first exposure to music came via listening to the radio when he was young. He bought his first record when he was nine and his first pair of turntables when he was 17. His earlier gigs were around Germany playing mostly Top 40 records at bars, sneaking in the occasional techno record. In 1982 he played his first real official set in the basement of a friend's house at a party and was booked a lengthy six years later for his first official all-techno gig. He was introduced to the rave scene in 1992, in its early German days, through a booking at an Easter rave. Following were a long string of big rave events and local exposure. The production bug first bit Maas in the early '80s, but his first record, "The Final XS," was not released until 1995. Verging on happy hardcore and called cheesy by Maas himself, the record did not do very well in most markets. Shortly after, he teamed with producer
Gary D
on the more successful "Die Herdplatte" record.
Gary D
also landed Maas a residency at one of Hamburg's better-known clubs, Tunnel, from 1994 to 1996.
Connections in England later brought Maas to the Bristol-based progressive house club Lakota and the label Hope Recordings. During 1996-97, he released singles through labels including Hope, Lakota, Phuture Wax, and UK44. Along with Andy Bolleshon and
Martin Buttrich
, he recorded singles under group names such as
Orinoko
and Kinetic A.T.O.M. He also recorded with manager and mate Leon Alexander under Mad Dogs and Englishmen. In 2000, Maas took a residency at the New York City mega-club Twilo with colleagues
Deep Dish
. Following the massive success of his
Azzido Da Bass
remix "Dooms Night" (which crossed over to the the U.K. garage scene) and his own track, "Ubik," Maas released 2000's Music for the Maases, a mix album largely composed of his own productions and remixes. After one more mix album, Connected, his production debut Loud appeared on
Paul Oakenfold
's Perfecto label in early 2002. More pop-oriented than his prior singles, the album reached the Top 50 of the U.K. album chart and scored a few hits, including "To Get Down" (which was remixed by
Fatboy Slim
) and the
Kelis
-featuring "Help Me."
Following 2003's Music for the Maases 2, as well as a remix of
Tori Amos
' "Don't Make Me Come to Vegas," which was nominated for a Grammy (Best Remixed Recording, Non-Classical), Maas' second studio album, Pictures, was released by Warner Bros. in 2005. Continuing with the dance/pop crossover sound of Loud, the heavily orchestrated album featured collaborations with
Neneh Cherry
and Brian Molko; however, it wasn't as commercially successful as its predecessor. Maas eventually stopped working with co-producer
Buttrich
; his new production partner became
Santos
(Sante Pucello), and the two formed a duo called
Mutant Clan
around 2008. By this time, Maas had largely shifted away from the trance and breaks styles he was previously associated with, often producing and spinning deep house, minimal techno, and tech-house tracks. He launched a label called Rockets & Ponies, and mixed double-CD Balance 017 in 2010.
In 2013, Maas released his third proper album, Lifer, on Rockets & Ponies. The album featured a return appearance from Molko as well as guest vocals by
James Lavelle
(
UNKLE
) and
Katie Cruel
. In 2014, he released mix CD Crossing Wires 002 on Canadian label My Favorite Robot. Maas began regularly collaborating with the label's
James Teej
, starting with a remix of Roísín Murphy's "Jealousy" and continuing with 2015 single "Thingzz." In 2016, Maas and
Teej
released a remix of "Nineteen Hundred and Eighty-Five," a song from Band on the Run by
Paul McCartney
&
Wings
. Maas had originally started the remix years earlier, but was unsatisfied with the results until he worked on it again with
Teej
. Originally released as an anonymous white label 12", the track was given an official release by Virgin, and ended up being nominated for a Grammy later in the year. Maas also released singles on
Last Night on Earth
and Rejected, and his remix of
Moby
's "Porcelain" was released as a limited Record Store Day 12" on his own label. ~ Diana Potts & Paul Simpson
full bio
Selected Discography
x
Track List:
First Day (Single) (Explicit)
Similar Artists
Don't have a Pandora account? Sign up
Already have a Pandora account? Log In