Free personalized radio that
plays the music you love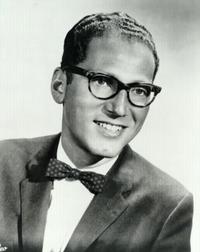 People who also like this
Tom Lehrer was one of comedy's great paradoxes -- a respected Harvard mathematics professor by day, he also ranked among the foremost song satirists of the postwar era, recording vicious, twisted parodies of popular musical trends which proved highly influential on the "sick comedy" revolution of the '60s. Despite an aversion to the press and a relatively small recorded output, Lehrer became a star, although he remained an enigma to even his most ardent fans; he rarely toured, never allowed his photo to adorn album jackets, and essentially retired from performing in 1965, leaving behind a cult following which only continued to grow in his absence from the limelight.
Lehrer was born April 9, 1928; even as a child, he frequently parodied popular songs of the day, and also learned to play piano. In 1944, he left New York City to study math at Harvard, earning his master's degree within three years and remaining as a graduate student through 1953. During his student years Lehrer wrote The Physical Revue, a collection of academic song satires staged on campus in January, 1951; an updated performance followed in May of the next year. He also sang his parodies at coffeehouses and student gatherings throughout the Cambridge, MA area; as demand for an album of his songs increased, he spent $15 on studio time to cut Songs by Tom Lehrer, a 10" record privately pressed in an edition of 400 copies.
The record sold out its entire run, and as the Harvard student body dispersed across the country for Christmas vacation, the disc spread ("like herpes," Lehrer joked) far beyond its intended local audience. Soon Lehrer was inundated with requests for copies from across the nation; after several re-pressings, Songs by Tom Lehrer sold an astounding 350,000 copies on the strength of tracks like "I Hold Your Hand in Mine" (about a man who cut off his girlfriend's hand in order to nibble on her fingertips), "Irish Ballad" (a buoyant romp about a killing spree), and "My Home Town" (concerning a place where murderers teach school and old perverts operate the candy store).
In 1955, Lehrer was inducted to serve in the Army, and was honorably discharged two years later. Finally, in 1959 he recorded a follow-up, More of Tom Lehrer, featuring "Poisoning Pigeons in the Park" and "The Masochism Tango"; the same collection of songs were also recorded during a live performance at Harvard, and issued simultaneously as An Evening Wasted with Tom Lehrer. A tour of Europe followed, resulting in another concert collection, Tom Lehrer Revisited, which constituted live renditions of the tracks from the debut LP. However, controversial reactions to his "sick" comedy during a series of Australian performances prompted Lehrer to retire, and he returned full-time to his first love, teaching.
In early 1964, he resurfaced as a songwriter for the NBC news satire That Was the Week That Was. After the show's demise a year later, Lehrer recorded the material written for the program on an LP also titled That Was the Week That Was; the album, which featured his controversial "Vatican Rag," was the first in his contract with the Reprise label, which also agreed to reissue his earlier, self-released records. After re-recording Songs by Tom Lehrer to improve on the original master's poor fidelity, he again retired from show business to return to academia; however, his songs were played regularly on the
Dr. Demento
radio show beginning in the '70s, and he became the program's second most requested artist of all time (behind
Weird Al Yankovic
). Lehrer's subsequent returns to show business were brief -- in 1972 he wrote a dozen tunes for the children's program The Electric Company, updated older material for a 1980 musical stage show dubbed Tomfoolery (produced by Cameron Mackintosh of Cats fame), and some years later, agreed to write occasionally for
Garrison Keillor
. Lehrer continued to teach mathematics at the University of California at Santa Cruz, and at age 72 witnessed Rhino Records' 2000 reissue of his complete recorded works in the form of a three-CD box set titled The Remains of Tom Lehrer. ~ Jason Ankeny
full bio
Selected Discography
Similar Artists
Don't have a Pandora account? Sign up
Already have a Pandora account? Log In