Free personalized radio that
plays the music you love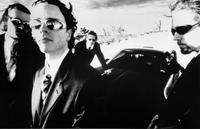 People who also like this
Norway's Ulver took their name from the Norse word for "wolf." As a unit, they are one of the most diverse groups in North European music. Though initially regarded as a black metal band, they have worked in numerous genres -- all dependent on predetermined concepts -- rendering them personae unto themselves.
Led by vocalist Garm (Kristoffer Rygg), Ulver recorded three albums that created a trilogy and spawned a global reputation for stylistic unpredictability. The first, 1995's Bergtatt, was a black metal offering that detailed a Norse legend in which maidens are abducted by denizens of the underworld. Their second offering, Kveldssanger, issued a year later, employed classical guitars, strings, and a chamber choir, as they performed original folk and classical dirges. Ulver made their international debut with the final entry in their trilogy; 1997's Nattens Madrigal. An album about wolves, it brought them full circle: it was intentionally under-produced and performed in traditional Norwegian black metal style.
In late 1997, Garm began working with keyboardist, sound conceptualist, and composer Tore Ylwizaker, who joined the band formally. Together they created the strategy for Themes from William Blake's The Marriage of Heaven & Hell, which was issued in 1998. The album initially proved a head scratcher for fans since it transcended black metal's aesthetics and employed everything from ambient and classical sounds to industrial, prog metal, and art rock, but was eventually regarded as one of their finest moments.
The Metamorphosis EP, the first of their electronic "ambient soundtracks" works, was released in 1999, followed by four records of the same type in quick succession: their fifth album, Perdition City (Music to an Interior Film) in 2000, and three EPs: Silence Teaches You How to Sing and Silencing the Singing, both in 2001, and 2003's A Quick Fix of Melancholy.
In 2005, Ulver released Blood Inside, their sixth full-length, and an album that marked a return to standard rock instrumentation, combined with orchestral instruments and arrangements. Their seventh studio album, Shadows of the Sun, saw another sonic sea change. Ulver enlisted guitarist and producer Christian Fennesz and theremin master
Pamelia Kurstin
as collaborators. The album received the Album of the Year Award at the Oslo Awards.
In 2009, Ulver announced they would become a quartet. Their three extant members -- Garm, Ylwizaker, and multi-instrumentalist Jørn H. Sværen enlisted British composer and multi-instrumentalist Daniel O'Sullivan, who had joined the group. The first album to feature the quartet was 2011's Wars of the Roses, followed by a thoroughly reimagined collection of '60s cover versions on 2012's Childhood's End, and an EP from the Roadburn Festival, as well as a DVD of a performance at the Norwegian National Opera.
Also that year, Ulver received a commission for a new work from the KulturHuset Tromsø in Norway, in cooperation with the Arctic Opera and Philharmonic Orchestra. Entitled Messe I.X-VI.X, it was performed and recorded by the band (with new member Ole Alexander Halstensgård replacing O'Sullivan) with the Tromsø Chamber Orchestra. The original recordings underwent post-production work with orchestral arranger Martin Romberg, and were finally released in the fall of 2013. Also in 2013, Ulver collaborated on a full-length recording with Sunn 0))); it was released as Terrestrials in February of 2014. That same month, the band played a series of shows that consisted "...of partly new and improv-based material, likely to revolve around motifs already familiar to our familiars." The following year, they announced that O'Sullivan -- under the nom de plume "12" -- had taken the multi-track tapes of those shows and massively edited them. Rygg, Ylwizaker, Sværen, and Anders Møller added new studio material to them during subsequent months. The full project, titled ATGCLVLSSCAP, was issued in 2016 on House of Mythology.
An original score and soundtrack for the film Riverhead appeared in December 2016, and continued along the improvisational path. In March 2017, Ulver managed to shock fans and critics yet again in shifting directions radically with the release of the dark synth pop single and video for "Nemoralia." In an interview, Rygg called the full-length The Assassination of Julius Caesar "Ulver's pop album." Issued in April, it preceded the band's appearance at the annual Roadburn Festival. The set included guest spots by saxophonist
Nik Turner
(ex-
Hawkwind
) and guitarist Stian Westerhus. ~ Thom Jurek
full bio
Selected Discography
Similar Artists
Don't have a Pandora account? Sign up
Already have a Pandora account? Log In