Free personalized radio that
plays the music you love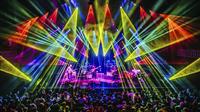 People who also like this
A jam band coming out of the Midwest in the mid-'90s, Umphrey's McGee edged toward the
Frank Zappa
side of the improv rock scale, as opposed to the
Grateful Dead
/Allman Brothers Band direction of their many contemporaries. The members of Umphrey's McGee met at the University of Notre Dame in South Bend, Indiana. The original four bandmembers (keyboardist Joel Cummins, guitarist Brendan Bayliss, bassist Ryan Stasik, and drummer Mike Mirro) had been playing in various campus bands when they got together in December 1997, naming themselves after a cousin of Bayliss'. With the national jam band infrastructure already in place, they quickly began disseminating their live shows and soon released their first studio album, Greatest Hits, Vol. 3. The fourth-generation jam band often included songs by
Phish
and moe. in their live sets, along with the usual selection of wacky covers.
The quartet won a large following in the South Bend area. As bandmembers graduated, the group began a more and more rigorous rehearsal schedule. Half of the band had degrees in music, so emphasis was placed on constant precision. The bandmembers religiously studied tapes of their performances in order to improve them. While their record sales still hadn't reached high levels, they used live recordings to pave the way for gigs in parts of the country they'd never been to before. (A story circulates of the band selling out shows in Colorado before their first trip there due to the distribution of their live CDs.)
In 1999, the band released a live recording titled Songs for Older Women, which also marked the debut of percussionist Andy Farag. In 2000, the band became a sextet with the addition of guitarist Jake Cinninger, a former member of a fellow South Bend group Ali Babba's Tahini, which had broken up, and they made the move to the bustling metropolis of Chicago. From their new home base, the band went on two-week jaunts throughout the Midwest, occasionally hitting other markets and sharing the stage with a variety of musicians, including
Dr. Didg
(aka Graham Wiggins), the Chicago-based blues harmonica player
Sugar Blue
, Béla Fleck, Topaz, and many others.
On New Year's Eve 2000, Umphrey's McGee released their third album, another live disc, titled One Fat Sucka. Their first studio album, Local Band Does O.K., came out in 2002. One year later, they released their first DVD, Live from the Lake Coast, which had been filmed in July 2002. It marked the last appearance on an Umphrey's McGee recording by Mirro, who left to go to medical school and was replaced on New Year's Eve 2002 by Kris Myers, who had a Master's degree in jazz drumming. Local Band Does OKlahoma, their next live album, was also released in 2003.
A second studio album, Anchor Drops, appeared in 2004 on the SCI Fidelity label run by fellow jam band
the String Cheese Incident
, and a second DVD, Wrapped Around Chicago: New Years at the Riv, was issued in 2005. In 2006, Umphrey's McGee released their third studio album, Safety in Numbers. It was their first to crack Billboard's albums chart. Another studio effort, The Bottom Half, was culled from Safety in Numbers sessions; both it and the critically praised concert album Live at the Murat appeared in 2007. Mantis was released early in 2009, and it charted even higher than Safety in Numbers. The Manny Sanchez- and Kevin Browning-produced Death by Stereo followed in 2011. Three years later, Similar Skin charted a progressive course through '80s rock and metal, becoming their highest-charting album to date. A one-day recording burst at Abbey Road in June 2014 produced The London Session, a mix of new material, road-tested songs never recorded in a studio, new arrangements of previously recorded tunes, and a cover of
the Beatles
' "I Want You (She's So Heavy)." It was released in April 2015. Around 2008 the band began a ritual of delivering off the wall mashups -- UM originals paired with famous songs from just about every genre -- during their annual Halloween show. In 2016, they released Zonkey, which presented studio versions of those unwieldy concoctions. ~ Jesse Jarnow
full bio
Selected Discography
Similar Artists
Don't have a Pandora account? Sign up
Already have a Pandora account? Log In