Free personalized radio that
plays the music you love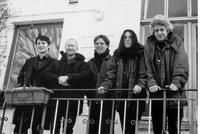 People who also like this
Formed in 1974, Belgium-based chamber rock band Univers Zero initially featured co-composers drummer Daniel Denis and guitarist Roger Trigaux joined by bassoonist Michel Berckmans, violinist Marcel Dufrane, bassist Christian Genet, violinist/violist Patrick Hanappier, and harmonium/spinet player Emmanuel Nicaise. The avant-prog group, one of the first Rock in Opposition bands along with Britain's
Henry Cow
, Sweden's
Samla Mammas Manna
, Italy's Stormy Six, and France's Etron Fou Leloublan, released its first album, 1313, in 1977. Univers Zero immediately began their history of personnel changes with the 1979 follow-up LP Heresie, a relentlessly dark effort recorded by the quintet formation of Denis, Trigaux, Berckmans, Hanappier, and bassist Guy Segers, who would (at least momentarily) replace Genet.
In 1980, Trigaux left to begin a new musical endeavor, Present. Undaunted, the group continued on, adding keyboardist/composer Andy Kirk and releasing the landmark Ceux du Dehors in 1981. Two years later, Univers Zero issued the Crawling Wind EP (which Cuneiform reissued with bonus tracks in 2001), having added clarinetist Dirk Descheemaeker and violinist Alan Ward to the fold following the departures of Berckmans and Hanappier. The next year saw the release of Uzed, which signaled a transition toward more electronic instrumentation and even a somewhat fusion-oriented sound. Keyboardist Jean-Luc Plouvier had replaced Andy Kirk on Uzed, but two years later the Heatwave CD featured a two-keyboard lineup with both Plouvier and Kirk as well as the return of Hanappier on violin in place of Ward, who had departed after only playing on Crawling Wind. Bassist Christian Genet was also in the Heatwave lineup, having replaced Guy Segers prior to Uzed.
Univers Zero broke up in 1987 as Denis, by now the group's driving force, main composer, and undisputed leader, pursued a solo career, but the band re-formed late in the following decade, releasing The Hard Quest in 1999 and Rhythmix in 2002. With continuing support from Cuneiform, the group released Implosion in 2004 and arguably one of its strongest efforts in decades, Live, in early 2006, followed by another career peak, Clivages, in 2010. The latter-day version of UZ continued the band's previous habit of featuring changing lineups surrounding the constant presence of Denis, along with returned bassoonist Michel Berckmans. Notable other players throughout this period included keyboardists Pierre Chevalier and Peter Vandenberghe, saxophonist/clarinetist Kurt Budé, bassists Eric Plantain and Dimitri Evers, and violinist Martin Lauwers.
However, despite the group's successes on record and in live performance, in 2013 Denis decided that a comparably significant change to the lineup was necessary. Declaring that Univers Zero's "old form was stagnant," he formed a new quintet version of the band; bassist Evers and saxophonist/clarinetist Budé from UZ's immediately preceding incarnation would remain, but keyboardist Chevalier, violinist Lauwers, and -- most notably -- original bandmember bassoonist Berckmans would depart. In July 2013 the lineup of Denis, Budé, Evers, keyboardist Antoine Guenet (the Wrong Object, SH.TG.N), and guitarist Nicolas Dechêne (Turlu Tursu), plus selected guests, entered Studio Dingo in Soignies, Belgium to record the 13th Univers Zero album, Phosphorescent Dreams. Featuring composing credits split between Denis and Budé, the album was released by the Japanese Arcangelo label in February 2014, 40 years after the group's initial founding. ~ Gary Hill & Dave Lynch
full bio
Selected Discography
Similar Artists
Don't have a Pandora account? Sign up
Already have a Pandora account? Log In