Free personalized radio that
plays the music you love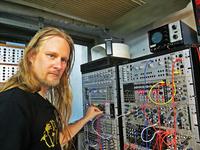 People who also like this
Aaron Funk, a producer of hardcore drum'n'bass noise, gained a profile in experimental techno circles with his signing to the Planet Mu label run by
Mike Paradinas
(aka µ-Ziq). It's a tribute to his production prowess that his base of Winnipeg, Manitoba, hasn't prevented IDM enthusiasts around the world from investigating his recordings. Venetian Snares' meticulously constructed works generally feature obtuse time signatures (often 7/4, although he frequently contorts his rhythms even further) sequenced at impossibly fast speeds, along with complex melodies that are as likely to be gorgeous and crystalline as they are unsettling. Likewise, he injects his music with a biting, sometimes shocking sense of absurdist humor, reflected in his song titles as well as samples and his own exaggerated vocals. On the other hand, his work can be devastatingly bleak and dejected, as demonstrated by releases such as My Downfall. His music incorporates influences ranging from ecstasy-munching rave and jungle to grindcore to contemporary classical, and while he's most commonly associated with the breakcore and IDM genres, his works have received acclaim from outside of the experimental electronic music sphere, most notably for 2005's Rossz Csillag Alatt Született.
After self-releasing a series of cassettes during the '90s, as well as a split cassette/CD-R with B-movie enthusiast
Stunt Rock
, Funk's first vinyl release was 1999's Greg Hates Car Culture on History of the Future. EPs on Zhark International (Salt), Low Res (7 Sevens.med), and Dyslexic Response (the particularly caustic Shitfuckers!!!) followed in 2000, along with his first full-length, printf("shiver in eternal darkness/n");, a CD for the Isolate label.
Paradinas
came across Greg Hates Car Culture in a Minneapolis record shop and immediately hired Funk for Planet Mu, resulting in three early 2001 releases for the label: the "Defluxion" 7", Making Orange Things (a noisy co-production with Speedranch), and Songs About My Cats. In addition, a child abuse-themed full-length titled Doll Doll Doll appeared on Hymen Records that year, as well as a split 12" with
Cex
on Klangkrieg and a ragga-jungle 7" under the name Snares Man! on History of the Future.
The year 2002 saw no less than three full-lengths on Planet Mu: the stellar Higgins Ultra Low Track Glue Funk Hits 1972-2006, the odds-and-ends collection 2370894, and the darker Winter in the Belly of a Snake. Hymen Records also released A Giant Alien Force More Violent & Sick Than Anything You Can Imagine, an epic 15-minute track on a 3" CD packaged in a jewelry-style box. The year 2003 brought Find Candace (a sequel to Doll Doll Doll) on Hymen, as well as the more eclectic, humorous Chocolate Wheelchair Album on Planet Mu, a split 7" with
Fanny
on the Death$ucker label, and the jazzy "Badminton" 7" on
Doormouse
's Addict Records. Snares' groundbreaking remix of
Doormouse
's "Skelechairs" had become a cult classic, and was subsequently released by Addict on a 12" with the original in 2004. "Moonglow," another jazzy 7" on Addict, appeared the same year, as well as the Infolepsy EP on Coredump, the Horse and Goat EP on Sublight, and the full-length Huge Chrome Cylinder Box Unfolding on Planet Mu.
The year 2005 began with Sublight's release of Winnipeg Is a Frozen Shithole, Venetian Snares' speedcore tribute to his hometown. Rossz Csillag Alatt Született, a modern classical-leaning album inspired by a revelatory trip to Hungary, followed on Planet Mu soon after, and was easily Funk's most well-received work, often being hailed by fans and critics as his masterpiece. Meathole also appeared on Planet Mu that year, along with You're a Nice Girl, the debut EP under Funk's acid-leaning
Last Step
pseudonym. He continued his prolific run in 2006 with the absurdly named Cavalcade of Glee and Dadaist Happy Hardcore Pom Poms album and the Hospitality EP, both on Planet Mu. The year 2007 saw the release of the Pink + Green EP on Sublight as well as the Rossz Csillag-styled My Downfall (Original Soundtrack) and
Last Step
's self-titled full-length debut, both on Planet Mu, as well as Sabbath Dubs, a 10" of dubstep-style
Black Sabbath
covers, on Kriss Records. The second
Last Step
LP 1961 followed in 2008, along with Snares' jungle-heavy Detrimentalist album and more classical-inspired "Miss Balaton" single, all on Planet Mu. The aptly titled Filth arrived in 2009, along with the more vocal-driven Horsey Noises EP, both on Planet Mu.
Aaron Funk's output had slowed down somewhat by the early 2010s, with more EPs and releases by side projects than proper Venetian Snares albums. The year 2010 saw the release of Snares' My So-Called Life album (the first release on his Timesig imprint), as well as a 12" by Speed Dealer Moms, his acid-techno collaboration with
Red Hot Chili Peppers
guitarist
John Frusciante
. Venetian Snares' sole release in 2011 was the Cubist Reggae EP on Planet Mu. The self-released digital EP Affectionate appeared in 2012, as well as the Fool the Detector EP on Timesig and
Last Step
's Sleep album (reportedly created by Funk in his sleep) on Planet Mu. After an uncharacteristically silent 2013, 2014 brought My Love Is a Bulldozer, Venetian Snares' first full-length in four years, as well as the self-titled debut by
Poemss
, Funk's collaboration with Toronto-based singer Joanne Pollock. Snares' Your Face EP surfaced on Planet Mu in 2015. Following its release, Funk announced that he was going through financial troubles; his fans responded ecstatically by purchasing downloads of his albums, and he offered his gratitude with a free digital album, Thank You for Your Consideration. The following year, Funk revived his Timesig imprint with his next proper full-length, Traditional Synthesizer Music, which was recorded entirely on a modular synthesizer system. ~ John Bush & Paul Simpson
full bio
Selected Discography
Similar Artists
Don't have a Pandora account? Sign up
Already have a Pandora account? Log In