Free personalized radio that
plays the music you love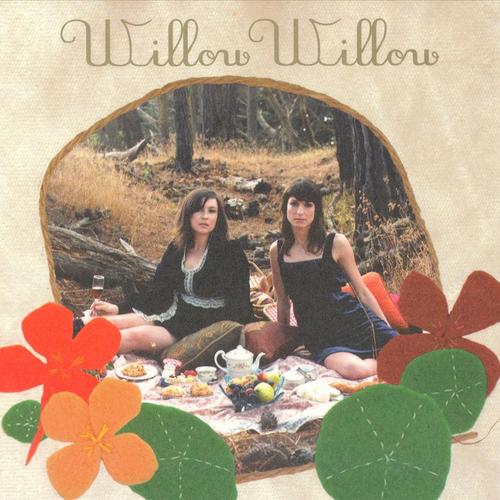 People who also like this
When Willow Willow appeared on San Francisco's singer/songwriter circuit in 2002, they enthralled audiences with their delirious harmonies, breathless songwriting, and captivating stage presence. With just one acoustic guitar and two angelic voices, the women of Willow Willow created a pleasing hybrid that was equal parts folk, soft rock, and classic pop with the flavors of Brazilian samba and British traditional music adding to give depth to their sound. Their eponymous debut, released on the small Mod Lang label in early 2007, has made them a band to watch and was highly praised for Miranda Zeiger's gently moody, lushly romantic tunes.
Jessica Vohs and Miranda Zeiger were born four months apart in Albany, CA, a bedroom community just north of Berkeley/Oakland. They met in kindergarten and became best friends, always singing and playing stuff throughout grammar school and their days at Albany High School, where they were in choir together. Vohs was also in the Piedmont Girl's Choir and brought Zeiger songs for them to sing together. From the start they had a natural talent for close harmony singing, with Vohs singing the lower parts and Zeiger the higher harmonies. They started making up songs together when they were children. Their imagination and creativity set them apart from their peers; they shared a childlike delight in exploring the world around them. In a recent interview, Vohs mused on their long friendship: "We're still best friends, even though it sounds silly for 30-year-old women to consider each other best friends, but we're very much like sisters. We're very close; it may be a past life thing, but who really knows?"
Zeiger and Vohs were both the oldest daughters of small families. They remember listening to
Madonna
at Zeiger's house in elementary school, lip synching to her videos and making up dances. They also loved
the Beatles
and dreamed of being entertainers. They made little home movies on Zeiger's video camera, writing out scripts and recording songs on a small tape recorder to use as soundtracks for the TV shows they wrote, which included parodies of commercials. In retrospect, they wonder what would have happened to their singing career if they'd been able to post their TV shows on YouTube. Zeiger's dad, Jerry, was a blues guitarist and songwriter who annoyed his daughter and her pal by pulling out his guitar and playing the blues at the drop of a hat. By the time they got to high school, however, they realized that he was a good picker. He bought Miranda her first guitar and taught her the basics. She took it from there.
Their first appearance as a duo was in high school. The choir class had each student do a performance project at the end of each semester. Vohs and Zeiger combined their talents for their presentation and sang an
Indigo Girls
song. They'd also become enamored with The Silly Sisters, an album by
Maddy Prior
(
Steeleye Span
) and
June Tabor
, two of Britain's finest traditional singers. The English harmonies intrigued them and the a cappella ballads they learned from the album are still a part of their shows from time to time. The duo traveled through Europe in 1999 and 2000. After returning to California and they started going to a lot of live shows and were blown away by
the Moore Brothers
, a close harmony folk-pop duo, at the Ivy Room in Albany.
The Moores
told them that they'd help the Willows get gigs if they ever decided to perform. Shortly thereafter the newly named Willow Willow (the name is taken from a song by
Arthur Lee
's band Love) opened for
the Moore Brothers
at Berkeley's Starry Plow. Eric Shea saw them and invited them to the Monday Night Hoot, a songwriter showcase at the Café du Nord in San Francisco. The musicians they met that night asked them to open shows for them and Willow Willow was off and running. "We never tried to score gigs," Vohs recalls. "We had a strong word of mouth buzz and people called us up wanting to book us."
The band built a following playing local rock venues and was one of the highlights of San Francisco's free Strictly Hardly Bluegrass Festival in 2005. Later that year, the duo wandered into Mod Lang Records, an eclectic indie record store in El Cerrito, asking about discs by progressive folkies
Mellow Candle
and
Vashti Bunyan
. Owner Paul Bradshare was intrigued by their interest and asked them to open for local pop songwriter
Bart Davenport
's in-store performance. A friendship blossomed and Mod Lang signed Willow Willow to their record division, bringing out their eponymous first album in 2007. Zeiger and Vohs still work part-time gigs to make ends meet, but plan to start touring the record with their band -- Zeiger, guitar, lead vocals, and harmonies; Vohs, lead vocals and harmonies; Josh Miller, bass; Paul Burkhart, percussion -- in autumn 2007. Zeiger also started learning the piano in 2007 and the group's next project was slated to be a 7" 45-rpm record featuring a Vohs composition, "Hummingbird," on one side and a new piano ballad from Zeiger on the flip. ~ j. poet
full bio
Similar Artists
Don't have a Pandora account? Sign up
Already have a Pandora account? Log In