Free personalized radio that
plays the music you love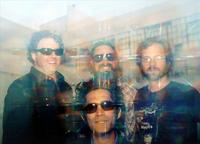 People who also like this
San Francisco's enigmatically named Wooden Shjips play a minimal, droning brand of garage-styled psychedelia with a noticeable '60s Krautrock influence. The band's vocals slip beneath waves of throbbing minimal rhythms, while fuzztone guitar and shrieking organs jump to the foreground. When bandleader Ripley Johnson assembled the group in 2003, he wasn't interested in playing gigs or becoming famous; rather, his original intention was to find a group of non-musicians for the purposes of creating innovative music. The idea was that untrained players would have a brand new outlook on music and could bring something fresh to the table, perhaps a blend of the often noisy trance rock of
the Velvet Underground
and the frenetic mania of the one-hit wonder garage punks of the early '60s. Bassman Dusty Jermier, for example, was originally recruited to play sax, an instrument he'd never picked up before. Other members from that first incarnation often had such a lack of interest in playing live, the band hardly bothered looking for gigs.
Eventually, Wooden Shjips whittled themselves down to a more productive lineup comprising Dusty Jermier on trumpet and bass, drummer Omar Ahsanuddin, organ player Nash Whalen, and guitarist/vocalist Johnson. They knew that what they were doing wasn't going to be profitable, but Johnson was a big fan of impenetrable albums and arcane small-press poetry books, having grown fascinated with books that go unread for decades or out of print albums that are finally rediscovered by collectors and praised as lost gems. With that in mind, the band set about making purposely obscure records that Johnson envisioned leaving in libraries, thrift store bargain bins, and on park benches. The band's debut 10" vinyl offering had three tunes: "Shrinking Moon for You" on the A-side and "Death's Not Your Friend" and "Space Clothes," an experiment in musique concrète, on the flip. Eschewing both a MySpace page and a traditional website with MP3 downloads, the band instead gave away the entire pressing of 300 records, even paying the shipping costs for out-of-town requests. A few unexpected rave reviews, including one from Rolling Stone, raised the record's cachet and the band's profile.
The next project was "Dance, California" b/w "Clouds Over the Earthquake," a single that was released in 2006 to celebrate the centennial of the 1906 earthquake. The Shjips sold enough copies to break even and strengthen the band's buzz, which was also propelled by a video for "Dance, California" that featured public domain footage of various cityscapes and girls dancing under a strobe light at a '60s party. Wooden Shjips' third pre-album slab of vinyl was "Summer of Love 2007," a tribute to all the people who worked to make the world a better place -- including people like the Diggers, San Francisco's anarchist collective that founded the first Free Store and served free meals in Golden Gate Park to all hungry mouths. The proceeds of the single went to Food Not Bombs, a group that did similar work, and the band celebrated the single's release with a date opening for psychedelic legend
Roky Erickson
. It was their second real gig since starting the band.
Wooden Shjips recorded their self-titled first album between March and May of 2007. It was released on a small avant-garde label, Holy Mountain, and produced by Johnson and Jermier under their noms de production of Tedrick G. Rippy and Don Rifle. Furthermore, the album had been recorded in their rehearsal space on a half-inch eight-track console that Jermier found, a strictly analog project aiming at getting a high-quality recording on a low budget. Some tracks were layered up from that demos that Johnson brought in; others, including "Shine Like Suns," were live studio jams with the drum parts added later, since they only had two tracks for the drums and no way to keep the instruments from bleeding into each other. The album dropped in September 2007 and earned the Shjips more rave reviews. Shortly thereafter, they cut another 7" single, "Loose Lips" b/w "Start to Dreaming," this time for the Sub Pop label. The second volume of the band's singles arrived on Sick Thirst in 2010. Simply entitled Vol. 2, it included all the sides cut for the Sub Pop and Mexican Summer imprints, two self-released European tour singles, and a track cut for Yeti magazine. Wooden Shjips seemed to go on a brief hiatus while Johnson and his other band,
Moon Duo
, released their third offering, Mazes, in the spring of 2011. This was merely cloud cover, however, as WS went back to touring full-time in the summer as a preview for the full-length West, which was issued by Thrill Jockey in the fall. Following West, the band uprooted from their Bay-area home for the rainier surroundings of Portland, Oregon. They returned to their childhood influences of groove-heavy classic rock and spacey textures for 2013's Back to Land. ~ j. poet & Thom Jurek
full bio
Selected Discography
Similar Artists
Don't have a Pandora account? Sign up
Already have a Pandora account? Log In