Free personalized radio that
plays the music you love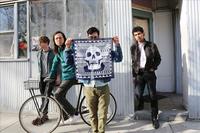 People who also like this
Founded as a side project by
Meneguar
's Jeremy Earl, Woods started as a solitary recording project in 2005. Earl recorded the debut Woods release, How to Survive In/In the Woods, a double cassette that appeared on the Fuckittapes label, shortly after the project's inception. The project's acoustic-leaning sounds veered away from the more traditional rock instrumentation of the parent band, and the off-the-cuff, lo-fi recording style cultivated a loose and searching vibe early on. In 2007, Woods released a slew of material including the Ram 7", the full-length album At Rear House, and a CD reissue of How to Survive In/In the Woods, this time appearing on Earl's Woodsist label. Woods Family Creeps arrived in 2008 and marked the inclusion of new bandmembers Jarvis Taveniere (also of
Meneguar
) and G. Lucas Crane.
The next year's follow-up album, Songs of Shame, was the best received up until that point by the prolific yet still largely underground band, earning tastemaking indie website Pitchfork's Best New Music accolade and exposing the group to new listeners. The third proper full-length, At Echo Lake, which featured new arrival
Kevin Morby
on bass, arrived in late spring of 2010 and was followed up a year later by Sun and Shade. Apart from being endlessly prolific, the band's sound was growing from the hushed solo fare of its earliest days into more amplified, roots-leaning rock, placing Earl's high-pitched vocals atop ambling Neil Young & Crazy Horse-esque rave-ups. Drummer Aaron Neveu was added to the live version of Woods, allowing Taveniere to focus solely on guitar instead of the double duty he'd done on recordings before.
Amid a regular touring schedule, Woods worked with California outsider circuit-bender
Amps for Christ
for a collaborative split LP in 2012, and issued their fifth proper full-length, Bend Beyond, later that year. They continued to expand their sound in terms of both recording quality and heightened production with 2014's shinier, fuller sixth LP, With Love and with Light, their first album done in a proper studio. Arriving in 2016, City Sun Eater in the River of Light was their second; it added elements of Ethiopian jazz, '70s West Coast rock, and a horn section on a few tracks. Later in the year they released two live albums, Recorded Live at Pickathon (a split release with the Men) and Live at Third Man Records. Woods decided to take some time off, but their intense feelings about the results of the U.S. presidential election spurred them to go back to the studio. Love Is Love was recorded over a two-month span and saw the bandmembers working quickly to get their raw emotions on tape, while sticking with the Ethiopian jazz influences and adding some laid-back funk to the mix. The album was released by Woodsist in May of 2017. ~ Fred Thomas
full bio
Selected Discography
Similar Artists
Don't have a Pandora account? Sign up
Already have a Pandora account? Log In