Free personalized radio that
plays the music you love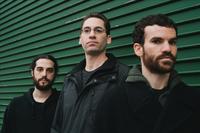 People who also like this
Something happened to Zevious between the early-2008 self-release of their eponymous debut album and the arrival of their second album, After the Air Raid, issued by Cuneiform in 2009. The bandmembers went a little bonkers. What began as a quite fine creative jazz trio was apparently bitten by the same bug that chomped its mandibles into
Robert Fripp
circa
King Crimson
's Larks' Tongues in Aspic, Starless and Bible Black, and Red in the 1970s (or, if you prefer something of more recent vintage, pick an album by
Meshuggah
), and the newly wired threesome of guitarist Mike Eber, bassist Johnny DeBlase, and drummer Jeff Eber (Mike's cousin) no doubt resigned themselves to the probability that a "jazz brunch" gig in a hotel atrium would never materialize for them in the future. Not that they were ever quite that subdued in the first place.
Although based in New York City and associated with the Brooklyn metal scene, the band has roots in Pennsylvania, where all three members resided before forming Zevious in the mid-2000s. The résumés of drummer Jeff Eber and bassist DeBlase both include time spent in Philadelphia, where the former studied music at the city's University of the Arts and held down the drum chair in avant metal outfit
Dysrhythmia
, and the latter, already with diverse gigs under his belt, moved in 2005. DeBlase was a graduate of Muhlenberg College in Allentown, Pennsylvania and, in fact, had met guitarist Mike Eber at Muhlenberg in 1999; the bassist and guitarist both earned music degrees at the college, subsequently gigging in a variety of musical projects in Pennsylvania's Lehigh Valley and elsewhere.
Mike Eber was the first of the three musicians to move to New York City, landing there in 2004, while DeBlase arrived in Philadelphia the following year, around the same time that Philly resident Jeff Eber moved to the N.Y.C. area himself. Despite the moderately inconvenient 100-mile distance between the two cities, the Eber cousins in N.Y.C. and DeBlase in Philly decided to form Zevious, necessitating that the bassist travel to the cousins' neck of the woods for rehearsals and performances. Their first gig -- with Mike Eber on hollow-body electric guitar, DeBlase on acoustic upright bass, and Jeff Eber on drums -- took place in 2006 at Teaneck, New Jersey's Lounge Zen, which these days advertises itself as a sushi restaurant with "a dance floor and live entertainment."
Other jazz club dates followed, and by 2007, perhaps tiring of the New Jersey Turnpike, DeBlase decided to take the plunge and move to N.Y.C. (also joining avant jazz-metal trio Many Arms that year). Between August and October 2007, the now fully New York-based Zevious set about recording their debut album at Menegroth (The Thousand Caves) studio in Queens with engineer and mixing/mastering whiz (and Behold... The Arctopus member) Colin Marston; self-released by the band in 2008, Zevious revealed a sometimes swinging, sometimes knotty trio, straight-ahead with avant shadings: Mike Eber was a mellow-toned master of jazz chording and a fleet soloist; DeBlase matched the guitarist's angular lines and laid down a deep and rich foundation; Jeff Eber locked in and nailed the groove, embellishing without masking his bandmates' subtlest timbres.
While the music of Zevious was no doubt rather edgy for a traditional jazz club with subdued lighting and tables of chitchatting martini drinkers only mildly interested in the on-stage goings-on, the wildness of the group's second album would likely send the patrons of said club fleeing for the exits (while mavens of musical mayhem would be eager to settle in at their vacated tables). Over a year and a half had elapsed since the sessions for their debut album when Zevious returned to Menegroth in May 2009 for the recording of the sophomore outing After the Air Raid, again with Marston engineering. Gone was Mike Eber's hollow-body guitar, replaced by a Telecaster; gone was DeBlase's upright bass, replaced by an electric instrument; and most significantly, gone were nearly all vestiges of the trio's straight-ahead jazz side. Instead, in addition to referencing the aforementioned touchstones of
King Crimson
and
Meshuggah
, Zevious cranked up the distortion and roared through a set that threw the likes of
Massacre
, Japan's Altered States, and avant skronk guitarists from
Sonny Sharrock
to
Nels Cline
to Iceland's
Hilmar Jensson
into the mix.
After several years of touring in the United States and Canada and refining new material, Zevious returned once again to Menegroth (and engineer Marston) in February 2013 to record their third album, Passing Through the Wall, released by Cuneiform in September of that year. If anything, the album saw the trio venturing even further into assaultive polyrhythmic pattern music, with the apparent goal of pummeling listeners into a trance with skewed grooves and high-energy, complex layers of sound. In October and November, the band headed out on a U.S. tour in support of the album, on many dates appearing with
Dysrhythmia
(now, incidentally, based in Brooklyn and still including Jeff Eber on drums). ~ Dave Lynch
full bio
Similar Artists
Don't have a Pandora account? Sign up
Already have a Pandora account? Log In